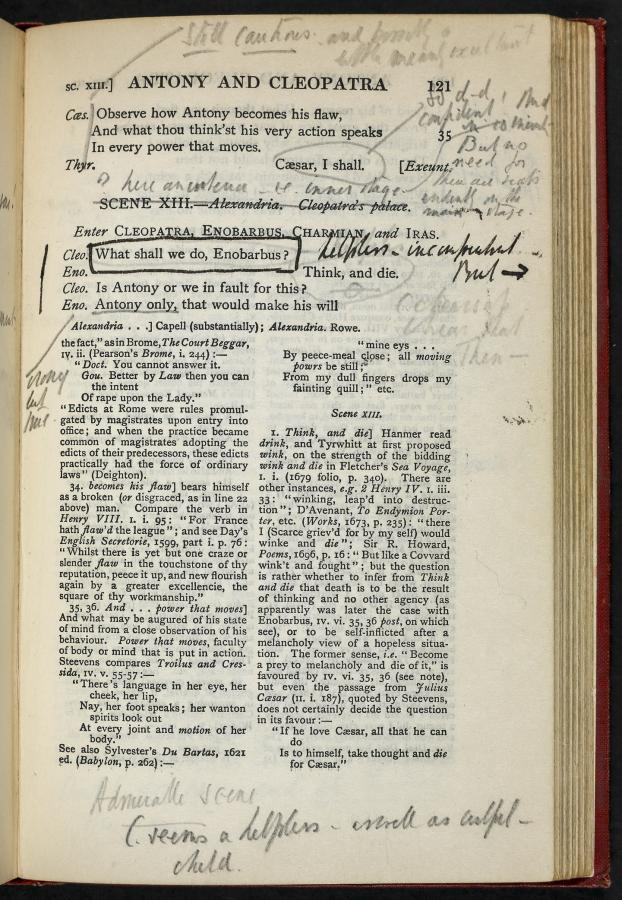 William Shakespeare; edited by R.H. Case
London: Methuen, 1920
[G.-B.C.] 061
The Arden Shakespeare is a series of scholarly edition of Shakespeare's plays in modern spelling with lengthy introductions and full commentaries. Publication began in 1899 and, in a third series, is ongoing. This Arden edition of Antony and Cleopatra from the first series is represented elsewhere in the Library, and is not an uncommon work, though one of lasting research value. But the energetic, even aggressive, annotations of Harley Granville-Barker (1877-1946) render this copy unique. Granville-Barker initially established himself as an actor before becoming a playwright and enjoying a more prominent career as a director. In this last role, he was responsible for particularly notable, stylised productions of Shakespeare in the period 1912-15, during which he was also an important figure in campaigns to build a National Shakespeare Memorial Theatre. These combined experiences left Granville-Barker unusually qualified to attempt the ambitious series of guides for which he is chiefly remembered, Prefaces to Shakespeare. These books approached the plays pragmatically, as primarily theatrical scripts to be staged -- an attitude clearly indicated by the fearless amendments on these pages.