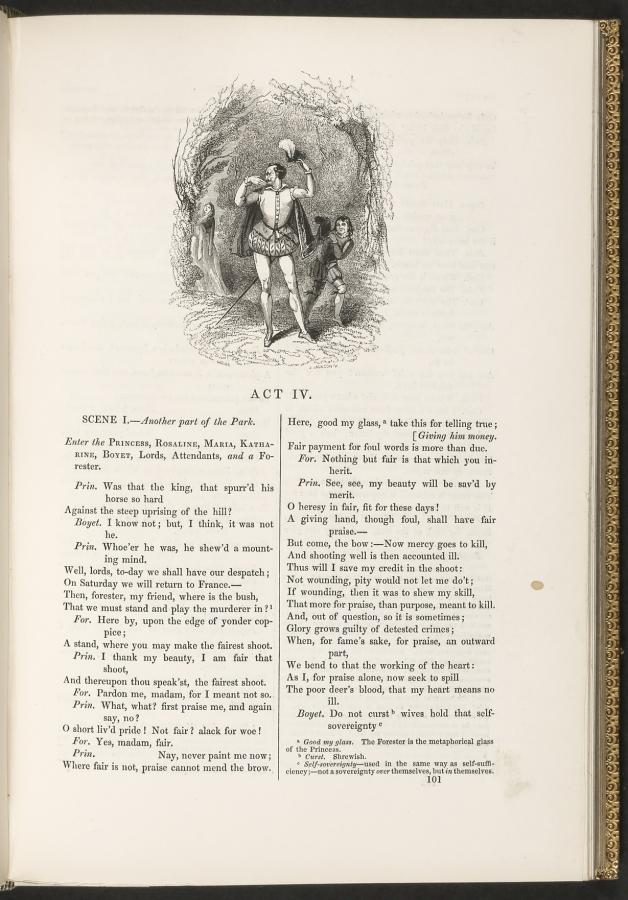 William Shakespeare; ed. by Charles Knight
London: C. Knight, 1839-1843
[D.-L.L.] (XVII) Bc [Shakespeare - Works - 1839-43]

This is the first of several editions of Shakespeare published by Charles Knight (1791-1873). It appeared in fifty-six monthly parts between 1838 and 1841, before being issued in seven volumes of the works with an eighth biographical volume. Knight supplemented the plays with background essays and notes. But the main feature of his edition is the pictures: a full-page title panel for each play, evoking its themes and characters, and six or seven internal vignettes, combining text and illustration on a single page. Knight's aim was educational, and the smaller wood engravings, executed by a range of anonymous artists, are intended to set the scenes and help readers to visualise the historical world of the plays: for example, with the 'Remains of the Amphitheatre at Ephesus' for The Comedy of Errors, and Venetian scenes, such as Saint Mark's Place, for The Merchant of Venice. There are also stock pictures of palaces, taverns, oak trees and so forth that could be recycled between Knight's various encyclopaedic projects, and so reveal the hack-publishing aspect of the work.