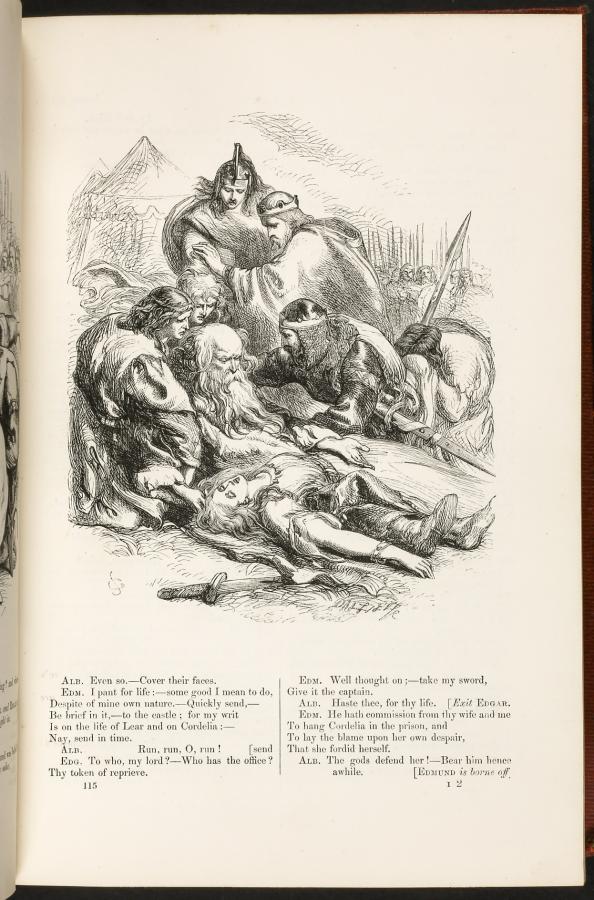 William Shakespeare; ill. by John Gilbert
London: Routledge, Warne & Routledge, 1860
[D.-L.L.] (XVII) Bc [Shakespeare - Works - 1858-60]

Howard Staunton's edition of Shakespeare came out in monthly parts between November 1857 and May 1860 before appearing in three volumes in 1860. The text is based on a collation of the seventeenth-century folios with early quartos and with the emendations of editors from Nicholas Rowe (1709) to Alexander Dyce (1832). Within narrow limits, Staunton made some (usually sensible) conjectural emendations, showing familiarity with Elizabethan literature and modes of speech. What is especially striking in this edition, however, are the illustrations by illustrator and painter Sir John Gilbert (1817-1897). Gilbert was a prolific illustrator who contributed about 30,000 drawings to the Illustrated London News and who illustrated various renowned literary works. But it is his 829 drawings for Staunton's Shakespeare that earned him his greatest fame, many of them depicting scenes never before illustrated. Selling in thousands of copies, Gilbert's depictions defined the spectacle of Shakespeare's plays for the mid-Victorian public.