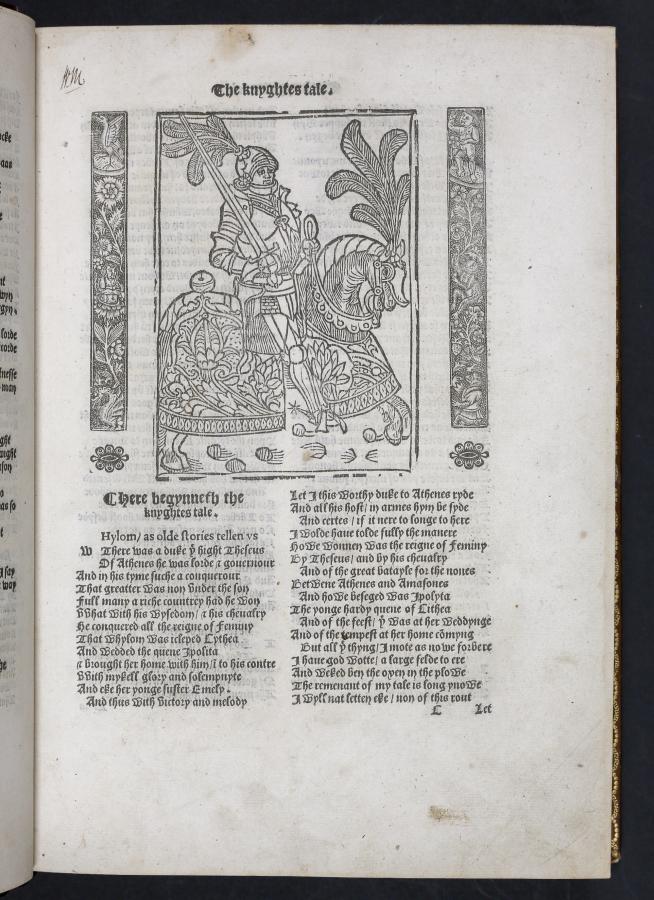 The Workes of Geffray Chaucer Newly Printed
Geoffrey Chaucer
London: T. Godfray, 1532
[S.L.] I [Chaucer - 1532] fol.
The extent of Shakespeare's indebtedness to Geoffrey Chaucer, whose works appeared in four editions between 1532 and 1602, is uncertain because Chaucer's material can usually be found in other possible sources available to Shakespeare. Nonetheless, Chaucer's Troilus and Criseyde (his best-known single work in the sixteenth century) is generally considered to be the main source of Shakespeare's Troilus and Cressida, about love and its betrayal against the background of the siege of Troy. In addition, the story of Pyramus and Thisbe in A Midsummer Night's Dream is based on Chaucer's Legend of Good Women. Chaucer's Canterbury Tales have left their mark on several plays: for example, 'The Knight's Tale' is the explicit source of the collaborative work The Two Noble Kinsman; Oberon and Titania's quarrel in A Midsummer Night's Dream comes from 'The Merchant's Tale', and Prospero's magic in The Tempest has been linked with 'The Franklin's Tale'.