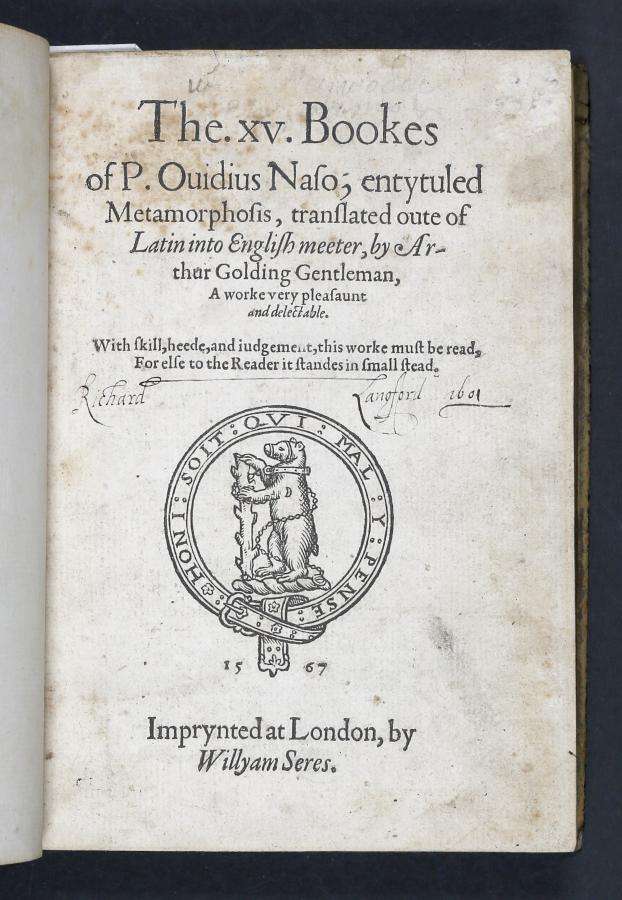 The xv. bookes of P. Ouidius Naso, entytuled Metamorphosis
Ovid; trans. by Arthur Golding
London: W. Seres, 1567
[S.L.] I [Ovid - 1567]
The Roman poet Ovid's Metamorphoses, a poetical handbook of mythological stories, was not only part of the English mediaeval literary canon, but influenced several Elizabethan writers. Shakespeare's character Holofernes names him in Love's Labour's Lost: "Ovidius Naso was the Man" (IV,ii). While Shakespeare may well have known Ovid in the original Latin, he certainly was acquainted with Arthur Golding's translation of 1567, parodying it in the play of Pyramus and Thisbe within A Midsummer Night's Dream. In The Tempest (V,I,33-57), Prospero's speech renouncing magic, "Ye elves of hills", echoes Golding. Further redolence of Ovid appear in the Sonnets, in Venus and Adonis (which blends several of the myths found in Ovid's work), in the lists of portents (not all in Plutarch) preceding Caesar's assassination in Julius Caesar, and in further aspects of A Midsummer Night's Dream (Bottom's transformation into an ass; the love juice).