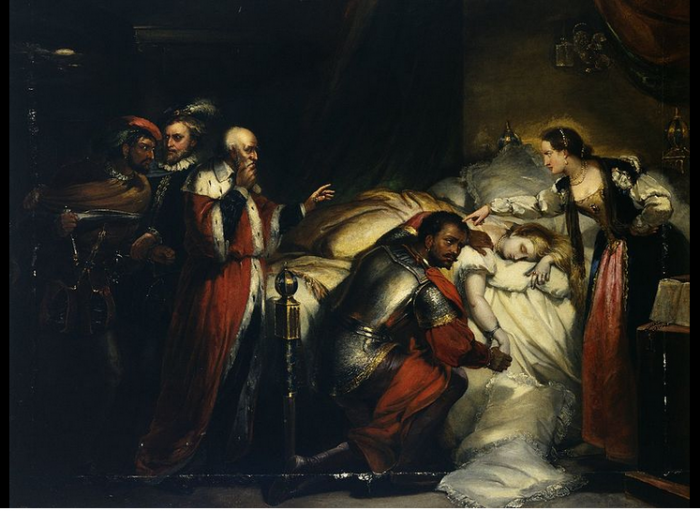 Othello Act 5 Scene ii (Lines 145-188): Othello and Emilia on Desdemona's death in her bedchamber, in the castle.
Othello: Nick Barratt (Assoc. Director, Collections & Engagement, Information Systems, Senate House Library)
Emilia: Karen Attar (Rare Books Librarian, Special Collections, Senate House Library)
B: Othello
03: nkO124
OTHELLO. She's like a liar gone to burning hell;
'Twas I that kill'd her.
EMILIA. O, the more angel she,
And you the blacker devil!
OTHELLO. She turn'd to folly, and she was a whore.
EMILIA. Thou dost belie her, and thou art a devil.
OTHELLO. She was false as water.

EMILIA. Thou art rash as fire, to say That she was false. O, she was heavenly true!

OTHELLO. Cassio did top her; ask thy husband else.
O, I were damn'd beneath all depth in hell,
But that I did proceed upon just grounds
To this extremity. Thy husband knew it all.
EMILIA. My husband?
OTHELLO. Thy husband.
EMILIA. That she was false to wedlock? OTHELLO. Ay, with Cassio. Nay, had she been true, If heaven would make me such another world
Of one entire and perfect chrysolite,
I'ld not have sold her for it.
EMILIA. My husband?
OTHELLO. Ay, 'twas he that told me first. An honest man he is, and hates the slime That sticks on filthy deeds.
EMILIA. My husband?
OTHELLO. What needs this iteration, woman? I say thy husband. EMILIA. O mistress, villainy hath made mocks with love!
My husband say that she was false!
OTHELLO. He, woman;
I say thy husband. Dost understand the word?
My friend, thy husband, honest, honest Iago.
EMILIA. If he say so, may his pernicious soul
Rot half a grain a day! He lies to the heart.
She was too fond of her most filthy bargain.
OTHELLO. Ha!
EMILIA. Do thy worst;
This deed of thine is no more worthy heaven
Than thou wast worthy her.
OTHELLO. Peace, you were best.
EMILIA. Thou hast not half that power to do me harm
As I have to be hurt. O gull! O dolt!
As ignorant as dirt! Thou hast done a deedI
care not for thy sword; I'll make thee known,
Though I lost twenty lives. Help! help, ho! help!
The Moor hath kill'd my mistress! Murther, murther!