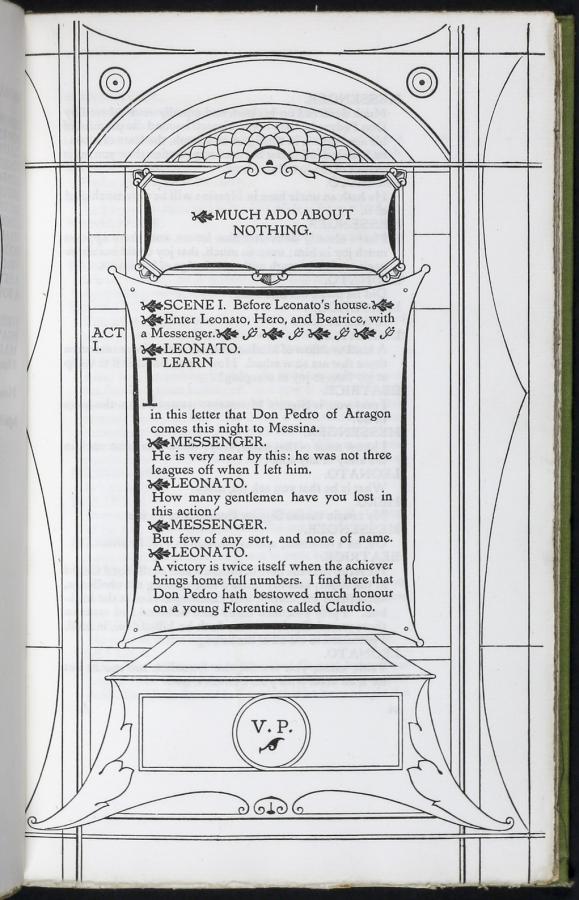 William Shakespeare
[London]: Vale Press, 1902
[S.L.] III [Vale Press – 1900]

The Vale Press, established by designer-publisher Charles Ricketts (1866-1931), was a private press that operated from 1896 until 1903; the design of its books showed a classical or Italianate influence. Shakespeare dominated the Press's output, which comprised 39 volumes of Shakespeare and 45 other books, mostly English poetry. The Passionate Pilgrim was its fifth publication (November 1896), followed by the Sonnets (November 1899); the plays appeared at the rate of approximately one per month between April 1900 and June 1903, beginning with Hamlet and ending with Henry VIII. Like the poems, they were edited by the poet Thomas Sturge Moore, who described the work as "rather a big order in the way of time". The text was intended to be conservative, albeit with modern spelling and recognising the results of recent research. Ricketts designed a special fount ("the Avon fount") for the plays, and conceived a new scheme of decoration for them, including borders and half-borders cut in brass and on wood, with separate borders for the Comedies, the Histories and the Tragedies.