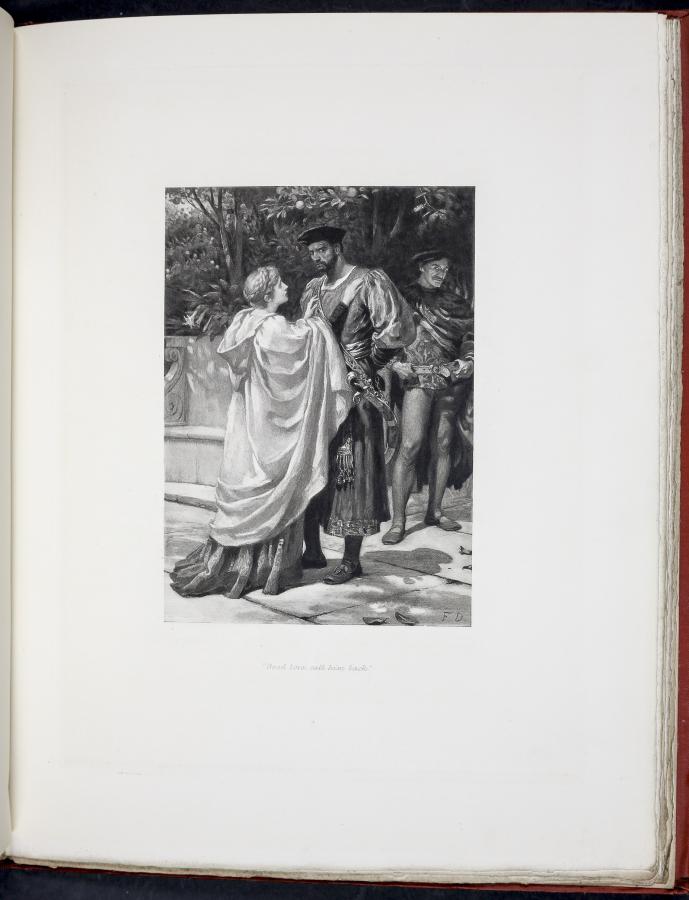 William Shakespeare; ill. by Sir Francis Bernard Dicksee
London: Cassell, 1890
xf YH 884

This version of Othello, measuring 44 by 35 centimetres, was evidently meant to be admired rather than to be read comfortably. It is printed in red and black on thick rag paper and represents the entry into the de luxe book market by a well-known standard publisher. Cassell had embarked upon fine art publications in the 1870s, and commissioned the versatile painter and illustrator Francis Bernard ('Frank') Dicksee to illustrate three of these, Longfellow's Evangeline (1882), Romeo and Juliet (1884), and Othello (1890). The illustrations comprise twelve photogravures, in its mature form a recent form of photography. The volume bears no comment on the form of the text, although it does contain a fourteen-page introductory discussion of the play, focussing on characterisation, by Edward Dowden, Professor of English Literature at Trinity College Dublin and the author of several books on Shakespeare, most notably Shakespere: a Critical Study of his Mind and Art (1876).