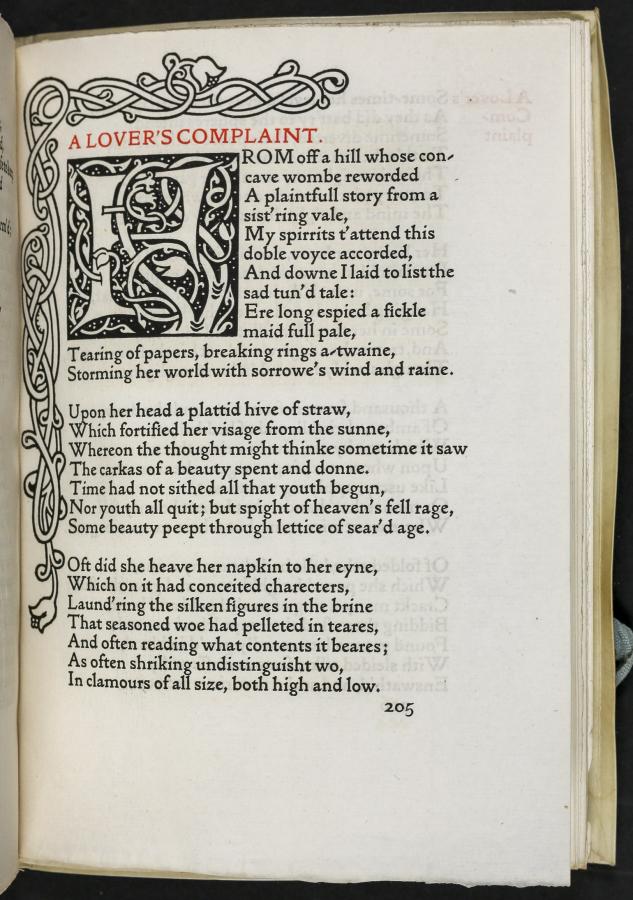 William Shakespeare
Hammersmith: Kelmscott Press, 1893
[S.L.] III [Kelmscott Press – 1893]

William Morris established the Kelmscott Press in 1891 to produce books that unity of type, ink and paper would render pleasurable to the eye. He derived inspiration from the earliest printed books, taking his roman type from Nicolas Jenson's Pliny of 1476. Morris printed books on linen-based paper printed to his own specification and imported black ink from Germany. Fifty-three books were printed at the Press, ranging from Beowulf to Morris's own works. Although Morris projected an edition of the complete works of Shakespeare, he died and the Press folded before the project could be realised. Thus his only Shakespearean production is this one, early in the Press's history, of the poems, printed in 510 copies. According to Kelmscott historian William Peterson, it was probably the most popular volume issued by the Press. The text retains the poems' original orthography, with editor Frederick Ellis writing: "The fact of being able to study these poems in the language in which they were written ought, we think, to add materially to the pleasure of the reader".